Abandon all high speed hopes
DSL is still down. They have to send out a guy to "check the lines." Of course, I have to be home when he does this, so it's going to be a couple of days. Sorry no jodicam, but as soon as DSL is back, you should get some lovely footage of me playing the sims because my University Expansion Pack for OS X arrived yesterday!! Whooo-hooo! Thea, now a sophomore, made the dean's list. She's majoring in psychology. She's moved out of her dorm and into a house with three other girls. I'm sure there will be pillow fights.
To make up for the lack of jodicam, which, I assure you, is FASCINATING when it is live, I give you a picture of my new, possibly lucky, monkey socks.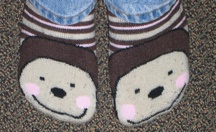 I find them delightful. You can fully appreciate them here because they have pink non-slip polka dots on the bottom [which many of my friends will tell you is a much needed safety precaution I've been without] and they make my feet do a little dance.